The COVID-19 pandemic caused nearly every employer, regardless of size and sector, to urgently switch employee operations to a dynamic of remote work. As the good news of vaccines and various employment-focused initiatives roll out across the UK, businesses, large and small, are thinking seriously about what a return to the workplace could look like for them and their teams.
In this webinar, aired live on 25 May 2021, AAI partnered with Startup Grind Scotland to welcome Chris Herd, globally recognised remote work evangelist and Founder and CEO of FirstbaseHQ.com, to discuss what he predicts for the future of office vs remote work from speaking to 2,000+ people in the last 12+ months.
Topics covered:
The future of the office, as we know it
The rise of remote work & 'remote fear'
Business productivity
The Future of employment / hiring
Wellbeing / Quality of life / Mental health / Perks
A lot of the conversation was instigated by two Twitter threads from Chris, which can be found in the links below.
I've spoken to 2,000+ people about remote work in the last 12 months. A few predictions of what is likely to emerge before 2030
The last 15 months have been the biggest workplace experiment in history. A few predictions on what will happen as things start to go 'back to normal'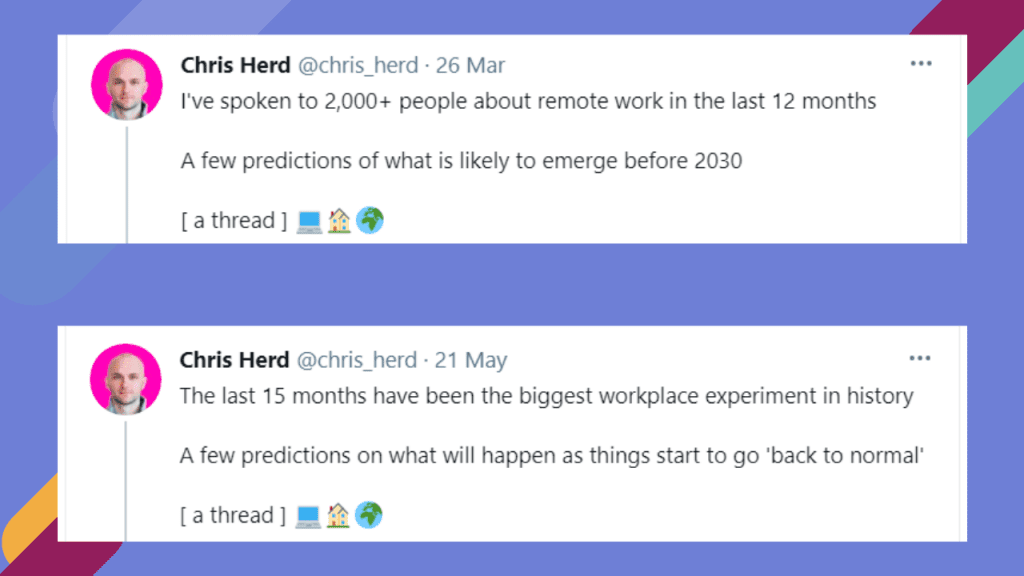 Learn more about how FirstBase supports remote teams HERE.
Research/Further Reading:
Some comments from the Webinar Chat
The danger is orgs say "we have a hybrid working policy," job done. When in fact, they need to speak to their people and find out what works on an individual basis. It's messy but it can work – for staff and employer, and ultimately for happiness, productivity and bottom line.

Working from home is great but you don't get the same "team" environment or feeling. Hard to share ideas, network or develop new contacts or even learn from colleagues in the same way. Would be great to have a hybrid system. Give them a choice.

AIt can be hard to mentally get ready for work if you've got many distractions at home (like me) and confined to a bedroom for privacy and peace to work from. People have different reasons for wanting to work from the office.

I never liked the distractions and interruptions when I was in the office and I 100% love my work from home setup and ability to focus.

The pandemic represents the worst of what working from anywhere could look like because it doesn't offer any of the good stuff / social contact from normal life

My hidden disability leaves me exhausted in the office. I do much better work from home & have thrived in my job this past year. Plus I have enough energy to have a rich social life for the first time in years. My life is much higher quality now.

Working from home allows you to do more "Deep Work"

I find that people's desire for an office is usually related to their age. Many 20s and early 30s love the office – especially cool places like WeWork. Mid-30s onwards tend to not need the office for making friends, they also sometimes have pets, kids or family members to care for. When you are my age (54), then I am going to the office to help my colleagues who want to see senior leaders from time to time to help their development. Many 20s and 30s are very clear that they want an office to work in. They also have homes etc that may not lend themselves to home working – they are putting up with it just now.

Difficulties arise if not all your staff can work from home, how do we create fairness across the board?

I wonder if we'll get to a point where people can choose their own working hours except for times when a business actually needs them to be at their desk – whether at home or in the office. I work best starting at 6am or earlier; others work better in the evenings. It would be great to see the death of 9am-5pm.

My question is: what about the toll of screen time on mental health? If my role stays remote and particularly if I moved somewhere out in the countryside, I'd be online 8 hours a day, and then even more online to do my hobbies and extracurricular.

The root cause is the obsolete understanding of the correlation between office-based productivity, personal happiness and wellbeing, and bosses that cannot simply abandon the notion of absolute control.

People work harder when they feel valued and empowered and supported when they feel trusted to get on with their jobs and do their work.