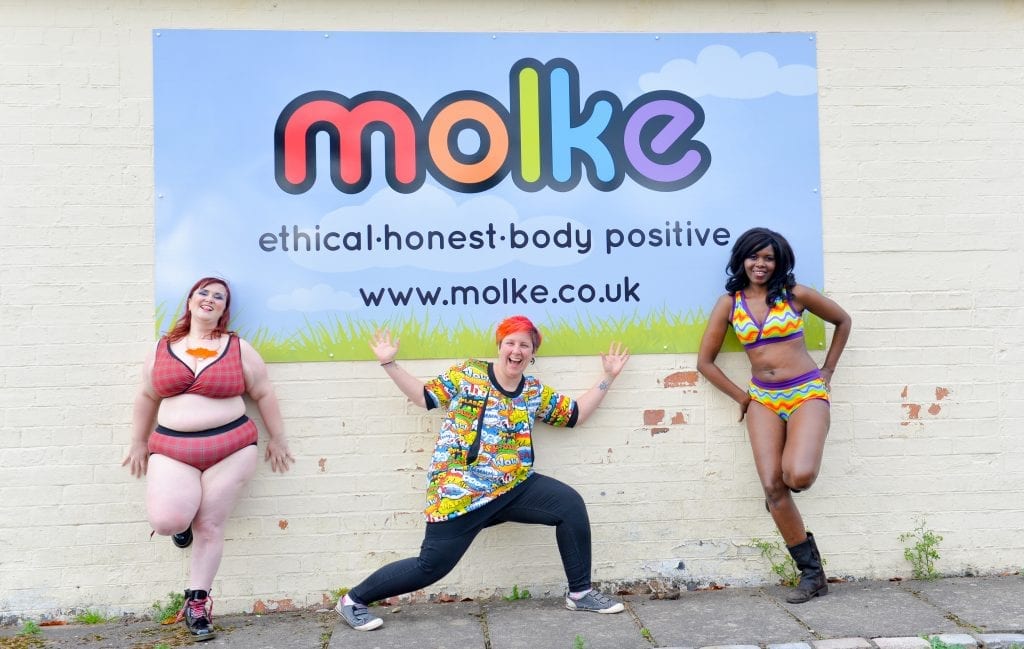 Please tell us about your organisation.
Molke began in 2016 with one woman, a desire for comfortable bras and a sewing machine in her kitchen. After drawing out the pattern with her kids' colouring pens Kirsty set to making a comfortable and colourful bra that she was soon selling to other women looking for the same comfort and support. With the help of her friends, she designed the bras to be suitable for a wide range of sizes.
"Molke has grown to give support and comfort to people all over the world, offering a range of underwear, clothing items and accessories."

 
Molke HQ is located in Perthshire, Scotland and many of our items are made here on our own premises, with fair pay and excellent working conditions for our staff. We pride ourselves on standing against fast fashion and are accredited Living Wage employers.
We believe fast fashion is detrimental to the environment, encourages unfair working conditions and produces poor quality clothes. We strive to create a positive impact on people and limit our impact on the environment.
Why did you need to bring someone into the team?
The Molke team has grown year upon year since the launch in July 2017. Directors Kirsty and Ros found themselves juggling a wide array of tasks and roles as the company quickly expanded, which is a common issue in business start-ups. Rapid growth created the need to develop a sustainable management structure within the business.
We swiftly found ourselves requiring an Operations Co-Ordinator, Production Supervisor and a Brand & Marketing Coordinator.
How did you hear about AAI and what was the process like working with us?
We had crossed paths with Joy and Nick at AAI through the Scottish Edge competition which we won in 2019. We first engaged the AAI team for help with finding an Operations Coordinator, a new permanent position within the company. The process was very easy and took away all the hassle and stress of recruitment for us. We gave them the brief of the candidate and skills we required and they handled the rest and gave us a great shortlist to interview and we found the right candidate.
We enjoyed the process so much we've used them again and again!
"The process was very easy and took away all the hassle and stress of recruitment for us."
What is the most valuable thing that you learned from your experience of hiring through AAI?
The most valuable thing that we've learned is to reach out and access skilled help when its needed. As a busy and growing business, we don't have as much time as we would like to invest into a robust recruitment drive, but AAI have the knowledge and the experience to do this for us.
Another key driver for us using AAI has always been that they have similar values to ourselves in relation to inclusivity, diversity and equality and on having a fair and just approach to recruitment.
Please tell us about your new team members. In what ways did they contribute to your business? How did they fit in with the existing team?
Our new team members have all jumped in feet first and made a passionate strive to develop their teams and enhance their processes. AAI really understood our company values and sourced candidates that were similarly aligned, so they fitted straight in with the team and our ethos.
What is next for the Molke team?
We have lots of things coming up this year – from exciting new products to further expansion of the team. We have always wanted Molke to be pushing the boundaries for inclusivity and we are working towards that with our new product ranges and increased size range.
Another of our goals is to be one of the biggest employers in Perthshire and we are still focused on that with ongoing recruitment.
"AAI really understood our company values and sourced candidates that were similarly aligned."
Learn more about Molke, their products and their approach to ethical, comfortable nursing garments at molke.co.uk